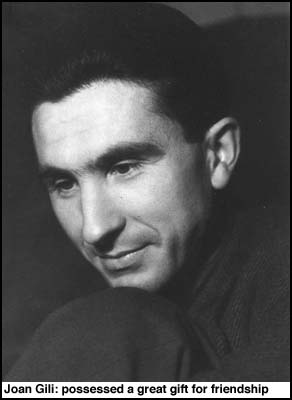 In 1945, Joan Gili was surprised to read his own obituary in a Mexican newspaper. Every particular was correct - except that it was his uncle who'd died. He wrote to the editor, expressing the hope that he would prove less intransigent than the editor of The Times who, on a similar occasion, had replied that, as The Times never made mistakes, the best they could offer by way of retraction was an announcement in the births column.
This time, alas, there is no mistake. The antiquarian book-seller, publisher and translator Joan Gili died in Oxford on May 6th 1998, aged 91. He had lived in England for the last sixty-four years of his life but was born and brought up a Catalan and always thought of himself as having two home towns - Oxford and Barcelona. Though he adopted the name John on his naturalisation in 1948, he was known to his family and friends by his Catalan name, Joan. When written rather than spoken, this could cause confusion.
His father ran a religious publishing house in Barcelona, which only ever produced one best-seller - a cookery book. Sabores, written by Joan's mother, was for many years the mainstay of the Spanish bourgeois kitchen. One of his sisters became a Carmelite nun, but he himself was not a believer. He felt stifled by the Edwardian values that permeated middle-class Barcelona society. While working for his father's Editorial Lluís Gili - first packing books, later designing them - he developed a passion for English literature, particularly the short story, about which he wrote regularly in La Publicitat.
One day he read an article in The Bookman that led to a correspondence with its author, C Henry Warren, a well-known writer about the countryside. When Warren invited him to visit England in 1933, he jumped at the opportunity. He fell in love with this country, and the freedom he found here; and in October 1934 returned for good. The Spanish Civil War and the Second World War intervened, and he was not to see his family again for thirteen years.
With Henry Warren he opened the Dolphin Bookshop in Cecil Court, off Charing Cross Road in London. Its name combined two references, to the great printer Aldus Manutius, whose emblem was a dolphin, and to the Mediterranean, where during the Middle Ages it was said that no fish daredshow its back unless it had the Catalan flag painted on it.
At first they sold English as well as Spanish books, but it was the Spanish books that made money. He bought out Warren and sold the English stock to Harold Edwards, his neighbour in Cecil Court. The Dolphin Bookshop became the first in Britain to specialise in Spanish and Latin American books and manuscripts. Over the years he built up important collections of material relating to the 18th Century War of Spanish Succession and of Catalan manuscripts from 911 to 1850 that are now in the Houghton Library at Harvard.
He started his distinguished series of Hispanic publications in 1938. As well as textbooks and literary studies, there were books (many of them with new English translations) by Miguel de Unamuno, Luis Cernuda, and the Nobel prizewinners Juan Ramón Jiménez and Pablo Neruda. In 1939, he and Stephen Spender translated Rafael M Nadal's selection of his friend Federico García Lorca's poems, which was one of the first books to introduce Lorca's writing to an English-speaking audience. In the 1950s, Penguin Books asked him to make new prose translations of Lorca's poems; this bilingual edition was a significant influence on several generations of poets and schoolchildren. Equally influential was his Introductory Catalan Grammar - the first of its kind, originally published in 1943, when Catalan was banned by Franco's fascists, and still in print today.
He used his scholarship to edit the texts he published, and his stylish typographical sense to design all the Dolphin books and catalogues. After Lorca, he helped introduce Catalan poetry to the English-speaking public with his translations of Carles Riba (Poems, 1964; Tankas of the Four Seasons, 1991; Savage Heart, 1993; Bierville Elegies, 1995), Salvador Espriu (Forms and Words, 1980) and Josep Carner (Nabí, 1996-8).
His earlier translation of eight of Riba's Tankas was set to music in 1965 by his old friend Alan Rawsthorne. Rawsthorne, Henry Warren and the conductor Harry Blech, together with their patron Helen Gaskell, were his first English friends, and they used to ring each other up every Christmas Day until the end of their lives.
During the War, as a registered alien in London, he was not allowed to help with the war effort, not even to fire-fight. Now married, he decided to move the Dolphin Bookshop away from the bombs to Oxford, to a studio in Park Town that had belonged to the flamboyant purple-waistcoated artist Hector Whistler. There the baby co-existed happily with the books. The pram was kept in the poetry section, where the eminent lexicographer Dr Onions was once found kneeling on the floor, barking at the infant Jonathan Francesc (now a documentary film director).
By the end of the War they had moved to a Victorian mansion in Fyfield Road, where two more children were born: Martin Lluís (who later took over and still runs the modern side of the book business) and Katherine Montserrat (now a sculptor working in forged steel). The books expanded to fill two floors.
There were only two Catalan families living in Oxford: the Gilis and the Truetas. The celebrated Dr Josep Trueta (first Nuffield Professor of Orthopaedic Surgery and recently featured on a Spanish postage stamp) became a close friend. Though apolitical, they kept alive each other's feeling for Catalonia, always talking in an entertaining melange of the two languages. In 1954, the Catalan nationalist Josep Maria Batista i Roca conceived the idea of an Anglo-Catalan Society, of which Joan Gili was a founding member and later President.
He became known as the "unofficial consul of the Catalans in Britain" and was honoured by the Catalan government with the Creu de Sant Jordi for his role in heightening awareness of Catalan literature. In its turn, the Spanish government made him a Commander of the Order of Isabella the Catholic. But it was his honorary MA from Oxford University, and his attachment to Exeter College, that gave him particular pleasure as one who'd not had a university education.
For him, work and home were indissoluble. He never retired, and was finalising corrections to his last translation, of Josep Carner's Nabí, when he was struck down by the final stages of cancer. At the age of ninety he was still playing tennis every Saturday. He was always a distinguished figure, with a handsome mane of thick white hair, and he used a safety razor to the end of his life, occasionally changing the brand of shaving cream "to surprise my beard".
On his first evening in England, at a dinner party given by Helen Gaskell, he'd met a strikingly beautiful philosophy student with an exotic background. Elizabeth McPherson was born in Hong Kong to a missionary father and an artist mother, and she'd spent the first twelve years of her life in China. They didn't take to each other at all.
By the time they decided to marry in 1938, she had graduated with a First from London University and a Henry Fellowship to Yale, but she never seemed to regret abandoning her own career to look after her husband and family. She translated her mother-in-law's cookery book under the title Tia Victoria's Spanish Kitchen, and her sumptuous lunches educated the palates of academics and undergraduates alike - though it was Joan who always stepped in to cook the paella.
After the wedding, Joan was surprised to learn that Elizabeth had a previous engagement for the weekend, and that he was not invited. "I let her go," he said. "My technique worked - she never left again."
They would have been married sixty years this June.